Colloidal Silver Magic Gel Spray
Spray gel to be used on all first aid needs
Regular price

Sale price

$24.00
Description

[250ml] To minimise waste, we will continue to send out fresh products in the original packaging until the 250ml bottles are gone. This is one of our commitments to sustainability.

Quickly and easily soothes skin irritations and infections with this easy-to-use spray

Naturally powered with antibacterial Silver and soothing Aloe Vera, our versatile MAGIC gel spray rapidly soaks into the skin and takes Colloidal Silver straight to the point of infection or irritation with no sticky residue. Working through the different skin layers, each layer of skin is soothed, repaired and rapidly healed, which also minimises scarring.

Gentle and effective to use on cuts, eczema, acne, sunburn, skin infections, feet infections, psoriasis and much much more, it's a must-have item for all the family.

Using only 100% natural quality ingredients that boast powerful antibacterial and healing properties, our products - including our MAGIC gel spray - are your first step at preventing and helping to soothe and heal skin irritations and infections.

Note: Magic Gel Spray has a much more liquid consistency than the Magic Gel.

Looking to treat your furry friend? The benefits of Colloidal Silver can be used on animals too. See our Animal Range here.
How To Use

Regular use is key, we'd suggest a minimum of 4-6 times a day. Simply spray it onto the affected area or dressing and let it get to work. Can be used on all skin types, conditions and open wounds. To increase effectiveness, use in conjunction with our Skin Cleanse.

Product colour and texture may vary due to being hand-made and formulated with natural ingredients.

Storage

Store in a cool place out of direct sunlight. Can be refrigerated for extra cooling on the skin and to prolong shelf life.

This product is best before 1 year from the purchase date if stored correctly. It can be used after this date, but the 1 year is when the product is at it's optimum.
More Information

Magic Gel Spray is available in glass bottles with a spray attachment - 250ml and 100ml.

We recommend regular use (4-6 times a day as a minimum) so the product's naturally powerful Silver ingredient has time to work through all the skin layers.

What are the benefits of Colloidal Silver?

Used by the Ancient Greeks to prevent bacteria from growing in water barrels and commonly used for ailments before the introduction of antibiotics in the 1930s, Silver has long been used as a safe and natural treatment - and we still feel the benefits today.

The natural antimicrobial, antibacterial, antifungal, and antiviral properties of Silver mean it can be used as a preventative, and at the point of infection or irritation. An essential item to have at home or as part of your first aid kit, it's easy to use, soaks in fast and calms the skin with no sticky residue.
Full Ingredients

Aloe Vera Gel (Aloe Barbadensis Leaf Juice, Aqua Glycerin, Phenoxyethanol, Ethylhexlglycerin, Carbomer, Sodium Hydroxide, Disodium EDTA, Citric Acid), Colloidal Silver 25ppm (Aqua, CI 77820) Vitamin E Oil (Tocopherol, Tritum Vulgare Germ Oil).

The INCI ingredients (listed in brackets) are the scientific/systematic names for the above ingredients, that are internationally recognised to identify cosmetic ingredients.
Certifications

Lab-tested, safety assessed and fully compliant with EU cosmetic regulation 1223/2009.

Our products are vegan friendly, absolutely not tested on animals, and are packaged in recyclable bottles and jars.
Delivery & Returns

UK orders are sent by Royal Mail 48-hour tracked service. Order before 12 midday for same-day dispatch. UK delivery is £3.99, or FREE for orders over £40.

International orders are sent via Royal Mail tracked or by Courier. Europe delivery ranges from £14. Rest of World delivery is £30.
Please be aware that you might have to pay an import tax or customs charge. This is unique to your country so please check this out before ordering.

RETURNS
We have a 14-day returns policy.

If the product has not been used or opened, we will refund the cost of the product but we are unable to refund the initial postage or the return postage.
Share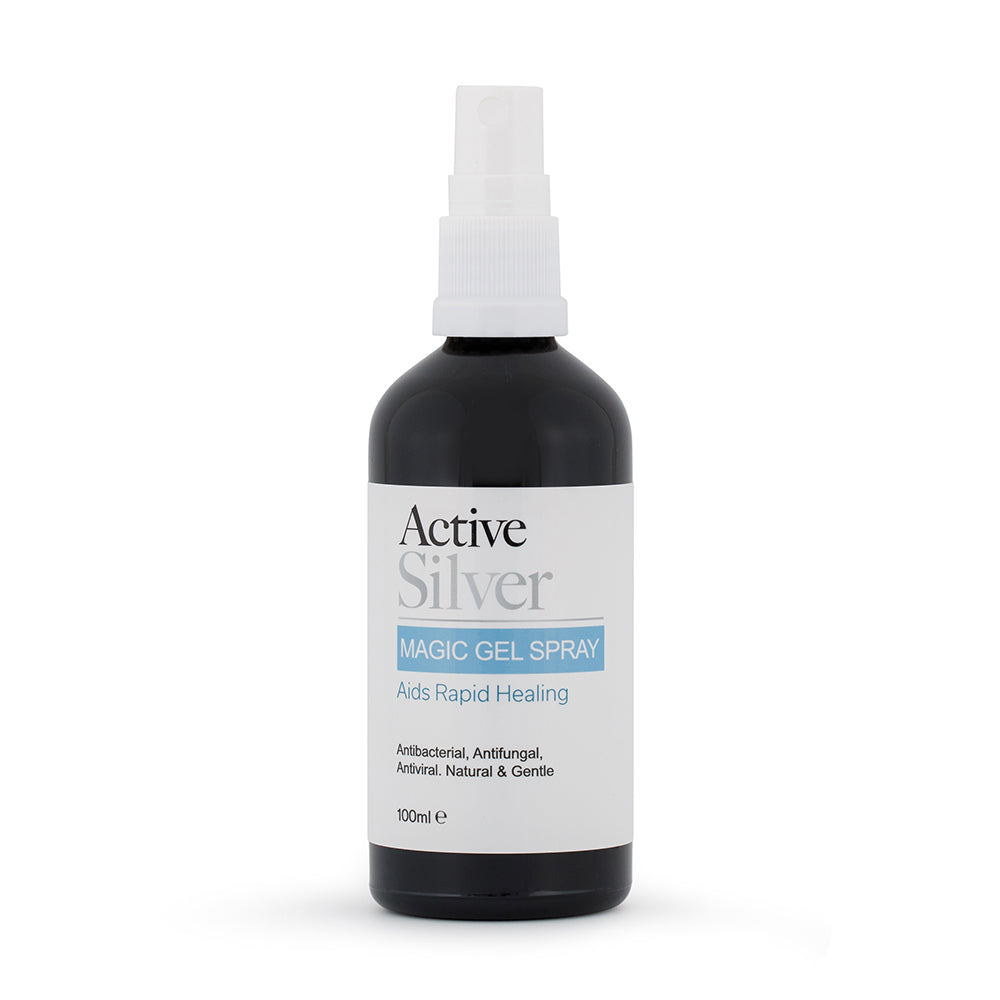 Key Ingredients
Colloidal Silver

Boost your immune system, naturally

Colloidal Silver is simply pure, microscopic silver suspended in ultra-pure water. Recognised as nature's most powerful, antimicrobial, it has been used for centuries to help fight off infection from bacteria, viruses and fungal spores. Gentle and effective for use on sore throats, sinusitis, eczema, psoriasis, acne and nappy rash, Colloidal Silver is a first aid kit must-have for your family.

Learn More

Aloe Vera

Naturally soothing for your skin

Made from the inner part of the aloe leaf, Aloe Barbadensis Leaf Juice is naturally rich in antioxidant vitamins A and C, making it perfect to relieve burns, moisturise dry skin and support healthy recovery from spots and blemishes.

Aloe Vera is prized for the anti-ageing and anti-inflammatory properties it can bring to your skin, so you'll find it alongside Colloidal Silver in many Active Silver skincare products as it helps the silver to penetrate all the skin layers for ultimate repair and healing.

Learn More

Vitamin E Oil

The ultimate skin nourisher

Vitamin E Oil (Tocopherol, Tritum Vulgar Germ Oil) is a powerful antioxidant that can reduce damage caused by UV and the harmful effects of pollution.

It has moisturising and anti-ageing benefits, and can be used for the treatment of scars and fine lines, to help wounds heal, and to soothe eczema and psoriasis. Vitamin E Oil's amazing properties are why we love to include it in so many of our products.

Learn More
Why Active Silver?