Hit The Spot Colloidal Silver Cream
Combats blemishes fast
Regular price

Sale price

$11.00
Description

Gently blasts spots and sores – fast!

Say goodbye to unwanted acne, sores, eczema, spots, chaffing or burns with our Colloidal Silver Hit the Spot. Formulated with the antibacterial natural power of Colloidal Silver and the anti-inflammatory effects of Zinc, use this gentle repair cream at the first sign of a sore or spot to help reduce inflammation and fight the build-up of oil and bacteria that can cause a breakout. It can also be used as a barrier cream too, or for chaffing or burns.
How To Use

Using a cotton bud or your finger, apply a very small amount and either leave on the skin as or rub it in and spread across the affected area. When you rub it in with your finger, allow up to 5 seconds for a creamy paste to appear.

Can be left on overnight or you can also apply in the morning under moisturiser or make-up.

Zinc gives the product an unusual paste-like consistency and can often make the ingredients separate, so just mix it with a cotton bud or add a small amount of Colloidal Silver or MAGIC gel if it starts to dry out.

To increase effectiveness and to help clear up sores and spots, use in conjunction with our Active Silver range.

Product colour and texture may vary due to being hand-made and formulated with natural ingredients.

Storage

Store in a refrigerator or a cool place out of direct sunlight to prolong shelf life.

This product is best before 3 months from the purchase date if stored correctly. Add a small amount of Colloidal Silver or MAGIC gel if it starts to dry out.
More Information

The true benefit of our products is often seen with prolonged use. We recommend using our products for 7-10 days so that the product has time to moisturise and penetrate the nourishing ingredients through all the skin layers.

What are the benefits of Colloidal Silver?

The natural antimicrobial, antibacterial, antifungal, and antiviral properties of Silver mean it can be used as a preventative, and at the point of infection or irritation. It's an essential item to have at home. Used by the Ancient Greeks to prevent bacteria from growing in water barrels and commonly taken for ailments before the introduction of antibiotics in the 1930s, Silver has long been used as a safe and natural treatment.
Full Ingredients

Colloidal Silver 25ppm (Aqua CI 77820), Aloe Vera Gel (Aloe Barbadensis Leaf Juice, Aqua Glycerin, Phenoxyethanol, Ethylhexlglycerin, Carbomer, Sodium hydroxide, Disodium EDTA, Citric Acid), Zinc (Zinc Oxide), Vegetable Glycerin (Glycerin).

The INCI ingredients (listed in brackets) are the scientific/systematic names for the above ingredients, that are internationally recognised to identify cosmetic ingredients.
Certifications

Lab-tested, safety assessed and fully compliant with EU cosmetic regulation 1223/2009.

Our products are vegan friendly, absolutely not tested on animals, and are packaged in recyclable bottles and jars.
Delivery & Returns

UK orders are sent by Royal Mail 48-hour tracked service. Order before 12 midday for same-day dispatch. UK delivery is £3.99, or FREE for orders over £40.

International orders are sent via Royal Mail tracked or by Courier. Europe delivery ranges from £14. Rest of World delivery is £30.
Please be aware that you might have to pay an import tax or customs charge. This is unique to your country so please check this out before ordering.

RETURNS
We have a 14-day returns policy.

If the product has not been used or opened, we will refund the cost of the product but we are unable to refund the initial postage or the return postage.
Share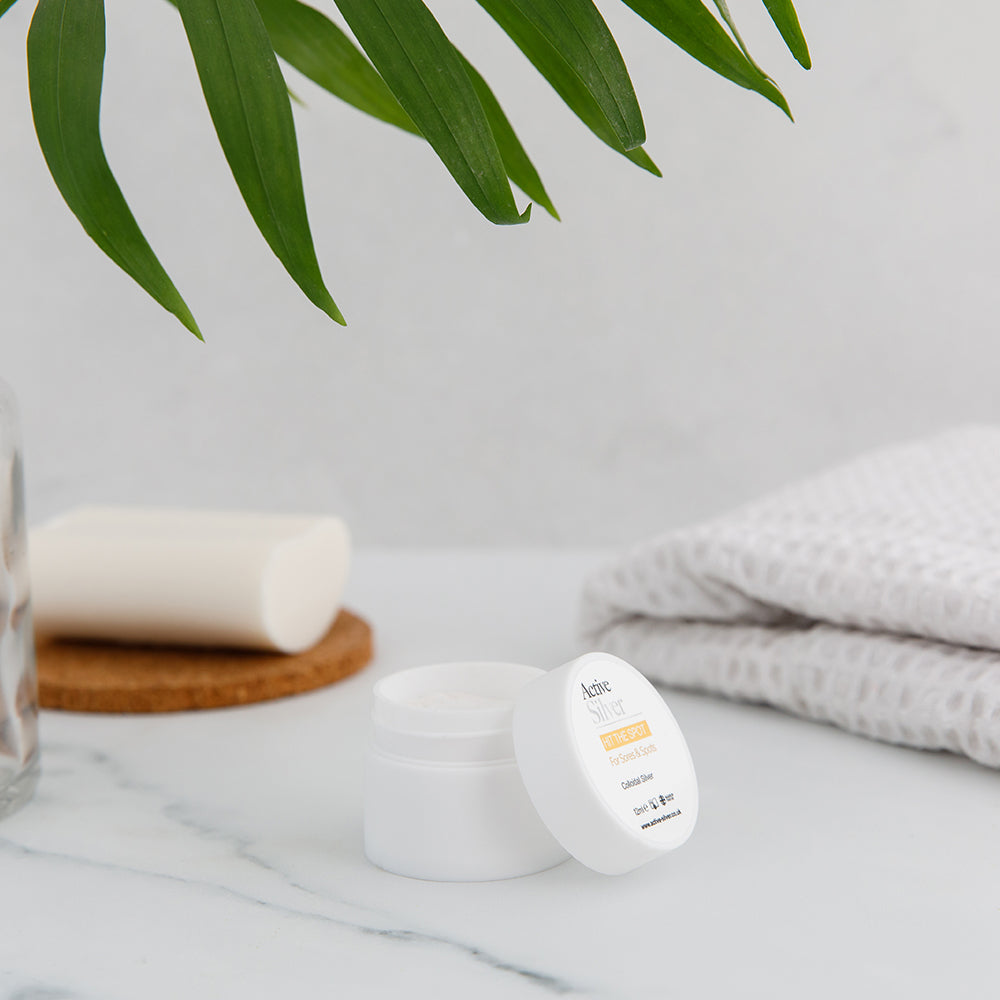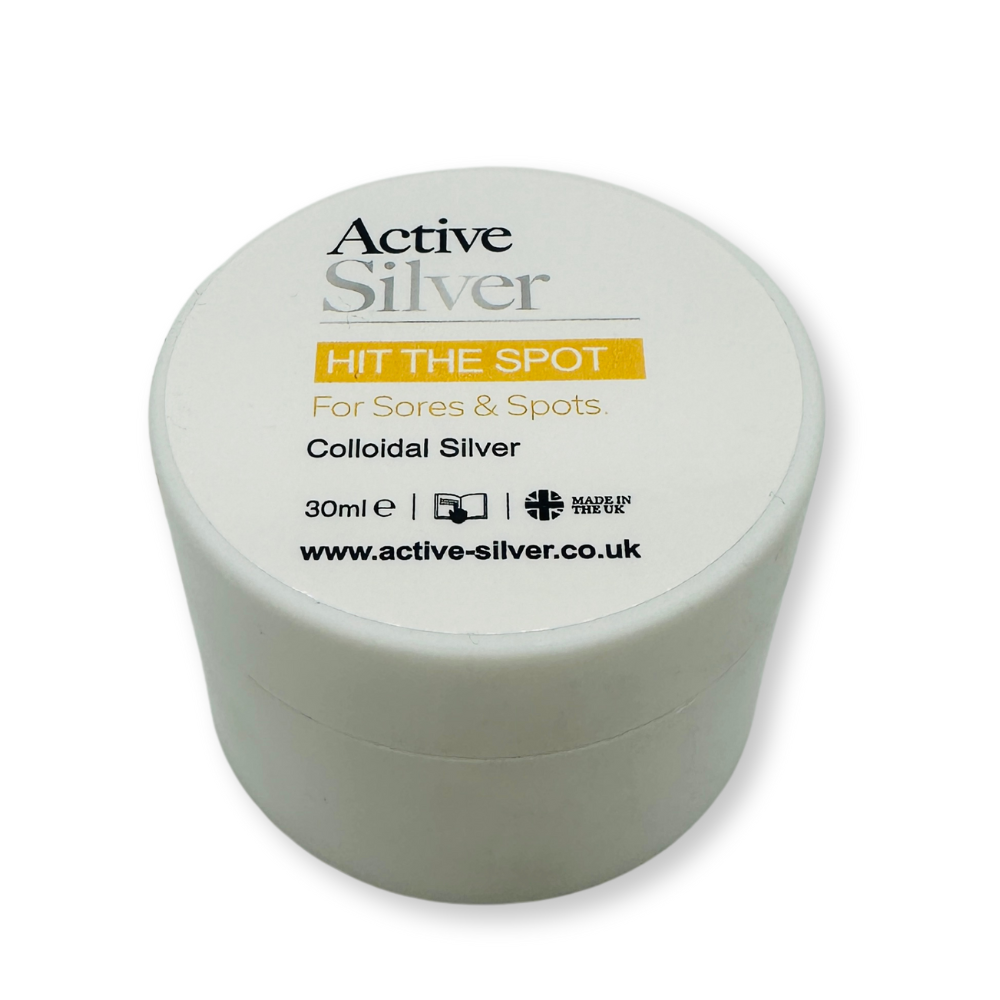 Key Ingredients
Colloidal Silver

Boost your immune system, naturally

Colloidal Silver is simply pure, microscopic silver suspended in ultra-pure water. Recognised as nature's most powerful, antimicrobial, it has been used for centuries to help fight off infection from bacteria, viruses and fungal spores. Gentle and effective for use on sore throats, sinusitis, eczema, psoriasis, acne and nappy rash, Colloidal Silver is a first aid kit must-have for your family.

Learn More

Zinc

Powerful natural blemish treatment

Zinc Oxide's anti-inflammatory, antioxidant properties make it ideal for healing and rejuvenating skin, tackling blemishes, sores, and eczema.

Learn More

Aloe Vera

Naturally soothing for your skin

Made from the inner part of the aloe leaf, Aloe Barbadensis Leaf Juice is naturally rich in antioxidant vitamins A and C, making it perfect to relieve burns, moisturise dry skin and support healthy recovery from spots and blemishes.

Aloe Vera is prized for the anti-ageing and anti-inflammatory properties it can bring to your skin, so you'll find it alongside Colloidal Silver in many Active Silver skincare products as it helps the silver to penetrate all the skin layers for ultimate repair and healing.

Learn More
Why Active Silver?